Dorset Coast Geography Case Study
Case Study – The Dorset Coast
Land Uses
Water Sports
Military
Historic Attractions
Coastal Footpaths
Wildlife
Water Sports
A coastline provides numerous areas where people can participate in a variety of different water sports. These include swimming, water skiing, windsurfing and yachting along the coast, in sheltered bays and lagoons.
Military
Military training takes place along many coastlines, e.g. the South West Coast footpath runs through Lulworth (army) Range.
Historic Attractions
The Dorset coast has a number of historic attractions which bring visitors to the area. These include Corfe Castle, Thomas Hardy's cottage and a number of historic ruins.
Coastal Footpaths
The area along the Dorset coast has many coastal footpaths where walkers can enjoy the stunning and varied scenery of the region. The South West Coast long distance footpath for example passes along cliffs where they will see caves, arches and stacks and bays with sandy beaches. Landscape features which tourists come to see include Lulworth Cove, Durdle Door, Old Harry and Tilly Whim Caves.
Wildlife
The coastlines also have varied wildlife due to the variety of landscapes that are formed here such as sand dunes, lagoons, salt flats and calm bays. Durlston Head is famous for bird watching, whilst Brownsea Island Nature Reserve is home to red squirrel and wildfowl.
Swanage Bay
The area around Swanage is made up of bands of hard and soft rock. The soft rock is made of clay and sands, and the hard rock is chalk and limestone. The bands of soft rock erode more quickly than those of the more resistant hard rock leaving a section of land jutting out into the sea, called a headland. The areas where the soft rock has eroded away, next to the headland, are called bays. This process created Swanage Bay, Studland Bay and two headlands, including Durlston Head.
Coastlines where the geology alternates between bands of hard and soft rock which are perpendicular to the shore are called discordant coastlines.
A concordant coastline has the same type of rock along its length. The alternating bands of hard and soft rock run parallel to the coast. Lulworth Cove is situated on the south coast of England, on a concordant coastline.
The entrance to the cove is narrow where the waves have cut through weaknesses in the resistant limestone. Then the cove widens where the softer clays have been more easily eroded. At the back of the cove is a band of more resistant chalk, so erosion is slower here.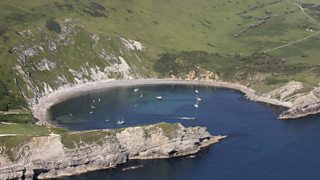 Lulworth Cove, Dorset