Vivian Gornick Essays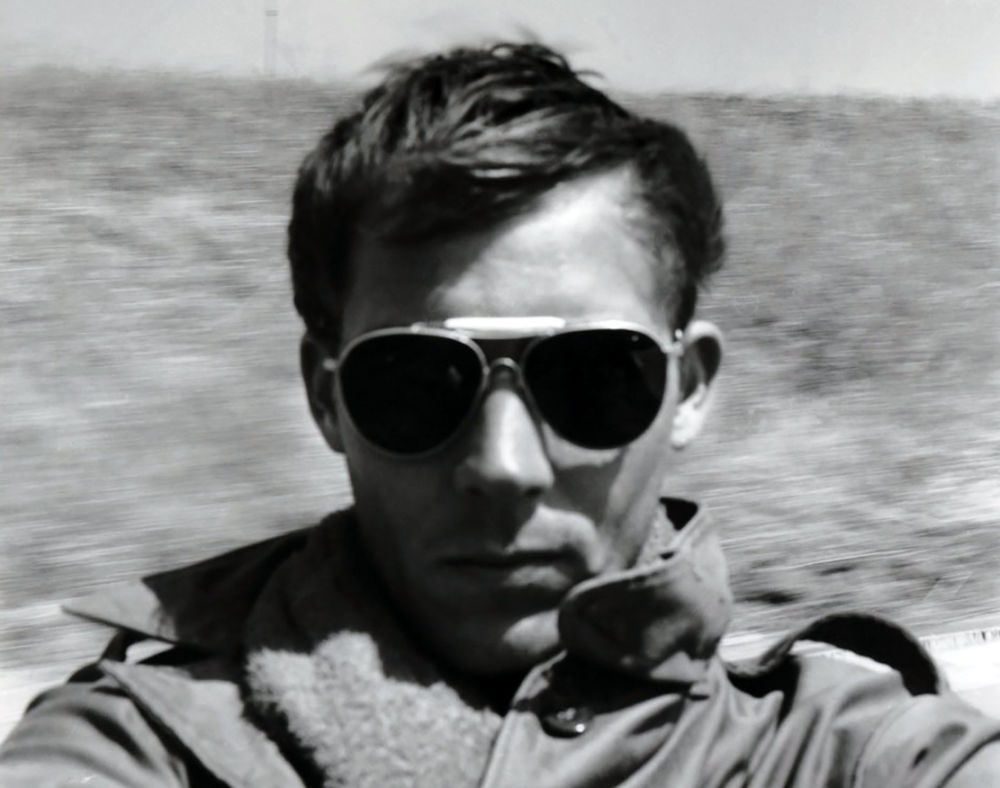 In an October 1957 letter to a friend who had recommended he read Ayn Rand's The Fountainhead, Hunter S. Thompson wrote, "Although I don't feel that it's at all necessary to tell you how I feel about the principle of individuality, I know that I'm going to have to spend the rest of my life expressing it one way or another, and I think that I'll accomplish more by expressing it on the keys of a typewriter than by letting it express itself in sudden outbursts of frustrated violence. . . ."
Thompson carved out his niche early. He was born in 1937, in Louisville, Kentucky, where his fiction and poetry earned him induction into the local Athenaeum Literary Association while he was still in high school. Thompson continued his literary pursuits in the United States Air Force, writing a weekly sports column for the base newspaper. After two years of service, Thompson endured a series of newspaper jobs—all of which ended badly—before he took to freelancing from Puerto Rico and South America for a variety of publications. The vocation quickly developed into a compulsion.
Thompson completed The Rum Diary, his only novel to date, before he turned twenty-five; bought by Ballantine Books, it finally was published—to glowing reviews—in 1998. In 1967, Thompson published his first nonfiction book, Hell's Angels, a harsh and incisive firsthand investigation into the infamous motorcycle gang then making the heartland of America nervous.
Fear and Loathing in Las Vegas, which first appeared in Rolling Stone in November 1971, sealed Thompson's reputation as an outlandish stylist successfully straddling the line between journalism and fiction writing. As the subtitle warns, the book tells of "a savage journey to the heart of the American Dream" in full-tilt gonzo style—Thompson's hilarious first-person approach—and is accented by British illustrator Ralph Steadman's appropriate drawings.
His next book, Fear and Loathing: On the Campaign Trail '72, was a brutally perceptive take on the 1972 Nixon-McGovern presidential campaign. A self-confessed political junkie, Thompson chronicled the 1992 presidential campaign in Better than Sex (1994). Thompson's other books include The Curse of Lono (1983), a bizarre South Seas tale, and three collections of Gonzo Papers: The Great Shark Hunt (1979), Generation of Swine (1988) and Songs of the Doomed (1990).
In 1997, The Proud Highway: Saga of a Desperate Southern Gentleman, 1955-1967, the first volume of Thompson's correspondence with everyone from his mother to Lyndon Johnson, was published. The second volume of letters, Fear and Loathing in America: The Brutal Odyssey of an Outlaw Journalist, 1968-1976, has just been released.
•
Located in the mostly posh neighborhood of western Colorado's Woody Creek Canyon, ten miles or so down-valley from Aspen, Owl Farm is a rustic ranch with an old-fashioned Wild West charm. Although Thompson's beloved peacocks roam his property freely, it's the flowers blooming around the ranch house that provide an unexpected high-country tranquility. Jimmy Carter, George McGovern and Keith Richards, among dozens of others, have shot clay pigeons and stationary targets on the property, which is a designated Rod and Gun Club and shares a border with the White River National Forest. Almost daily, Thompson leaves Owl Farm in either his Great Red Shark Convertible or Jeep Grand Cherokee to mingle at the nearby Woody Creek Tavern.
Visitors to Thompson's house are greeted by a variety of sculptures, weapons, boxes of books and a bicycle before entering the nerve center of Owl Farm, Thompson's obvious command post on the kitchen side of a peninsula counter that separates him from a lounge area dominated by an always-on Panasonic TV, always tuned to news or sports. An antique upright piano is piled high and deep enough with books to engulf any reader for a decade. Above the piano hangs a large Ralph Steadman portrait of "Belinda"—the Slut Goddess of Polo. On another wall covered with political buttons hangs a Che Guevara banner acquired on Thompson's last tour of Cuba. On the counter sits an IBM Selectric typewriter—a Macintosh computer is set up in an office in the back wing of the house.
The most striking thing about Thompson's house is that it isn't the weirdness one notices first: it's the words. They're everywhere—handwritten in his elegant lettering, mostly in fading red Sharpie on the blizzard of bits of paper festooning every wall and surface: stuck to the sleek black leather refrigerator, taped to the giant TV, tacked up on the lampshades; inscribed by others on framed photos with lines like, "For Hunter, who saw not only fear and loathing, but hope and joy in '72—George McGovern"; typed in IBM Selectric on reams of originals and copies in fat manila folders that slide in piles off every counter and table top; and noted in many hands and inks across the endless flurry of pages.
Thompson extricates his large frame from his ergonomically correct office chair facing the TV and lumbers over graciously to administer a hearty handshake or kiss to each caller according to gender, all with an easy effortlessness and unexpectedly old-world way that somehow underscores just who is in charge.
•
We talked with Thompson for twelve hours straight. This was nothing out of the ordinary for the host: Owl Farm operates like an eighteenth-century salon, where people from all walks of life congregate in the wee hours for free exchanges about everything from theoretical physics to local water rights, depending on who's there. Walter Isaacson, managing editor of Time, was present during parts of this interview, as were a steady stream of friends. Given the very late hours Thompson keeps, it is fitting that the most prominently posted quote in the room, in Thompson's hand, twists the last line of Dylan Thomas's poem "Do Not Go Gentle into That Good Night": "Rage, rage against the coming of the light."
For most of the half-day that we talked, Thompson sat at his command post, chain-smoking red Dunhills through a German-made gold-tipped cigarette filter and rocking back and forth in his swivel chair. Behind Thompson's sui generis personality lurks a trenchant humorist with a sharp moral sensibility. His exaggerated style may defy easy categorization, but his career-long autopsy on the death of the American dream places him among the twentieth century's most exciting writers. The comic savagery of his best work will continue to electrify readers for generations to come.
•
. . . I have stolen more quotes and thoughts and purely elegant little starbursts of writing from the Book of Revelation than from anything else in the English Language—and it is not because I am a biblical scholar, or because of any religious faith, but because I love the wild power of the language and the purity of the madness that governs it and makes it music.
HUNTER S. THOMPSON
Well, wanting to and having to are two different things. Originally I hadn't thought about writing as a solution to my problems. But I had a good grounding in literature in high school. We'd cut school and go down to a café on Bardstown Road where we would drink beer and read and discuss Plato's parable of the cave. We had a literary society in town, the Athenaeum; we met in coat and tie on Saturday nights. I hadn't adjusted too well to society—I was in jail for the night of my high school graduation—but I learned at the age of fifteen that to get by you had to find the one thing you can do better than anybody else . . . at least this was so in my case. I figured that out early. It was writing. It was the rock in my sock. Easier than algebra. It was always work, but it was always worthwhile work. I was fascinated early by seeing my byline in print. It was a rush. Still is.
When I got to the Air Force, writing got me out of trouble. I was assigned to pilot training at Eglin Air Force Base near Pensacola in northwest Florida, but I was shifted to electronics . . . advanced, very intense, eight-month school with bright guys . . . I enjoyed it but I wanted to get back to pilot training. Besides, I'm afraid of electricity. So I went up there to the base education office one day and signed up for some classes at Florida State. I got along well with a guy named Ed and I asked him about literary possibilities. He asked me if I knew anything about sports, and I said that I had been the editor of my high-school paper. He said, "Well, we might be in luck." It turned out that the sports editor of the base newspaper, a staff sergeant, had been arrested in Pensacola and put in jail for public drunkenness, pissing against the side of a building; it was the third time and they wouldn't let him out.
So I went to the base library and found three books on journalism. I stayed there reading them until it closed. Basic journalism. I learned about headlines, leads: who, when, what, where, that sort of thing. I barely slept that night. This was my ticket to ride, my ticket to get out of that damn place. So I started as an editor. Boy, what a joy. I wrote long Grantland Rice-type stories. The sports editor of my hometown Louisville Courier Journal always had a column, left-hand side of the page. So I started a column.
By the second week I had the whole thing down. I could work at night. I wore civilian clothes, worked off base, had no hours, but I worked constantly. I wrote not only for the base paper, The Command Courier, but also the local paper, The Playground News. I'd put things in the local paper that I couldn't put in the base paper. Really inflammatory shit. I wrote for a professional wrestling newsletter. The Air Force got very angry about it. I was constantly doing things that violated regulations. I wrote a critical column about how Arthur Godfrey, who'd been invited to the base to be the master of ceremonies at a firepower demonstration, had been busted for shooting animals from the air in Alaska. The base commander told me: "Goddamn it, son, why did you have to write about Arthur Godfrey that way?"
When I left the Air Force I knew I could get by as a journalist. So I went to apply for a job at Sports Illustrated. I had my clippings, my bylines, and I thought that was magic . . . my passport. The personnel director just laughed at me. I said, "Wait a minute. I've been sports editor for two papers." He told me that their writers were judged not by the work they'd done, but where they'd done it. He said, "Our writers are all Pulitzer Prize winners from The New York Times. This is a helluva place for you to start. Go out into the boondocks and improve yourself."
I was shocked. After all, I'd broken the Bart Starr story.
INTERVIEWER
What was that?
THOMPSON
At Eglin Air Force Base we always had these great football teams. The Eagles. Championship teams. We could beat up on the University of Virginia. Our bird-colonel Sparks wasn't just any yo-yo coach. We recruited. We had these great players serving their military time in ROTC. We had Zeke Bratkowski, the Green Bay quarterback. We had Max McGee of the Packers. Violent, wild, wonderful drunk. At the start of the season McGee went AWOL, appeared at the Green Bay camp and he never came back. I was somehow blamed for his leaving. The sun fell out of the firmament. Then the word came that we were getting Bart Starr, the All-American from Alabama. The Eagles were going to roll! But then the staff sergeant across the street came in and said, "I've got a terrible story for you. Bart Starr's not coming." I managed to break into an office and get out his files. I printed the order that showed he was being discharged medically. Very serious leak.
INTERVIEWER
The Bart Starr story was not enough to impress Sports Illustrated?
THOMPSON
The personnel guy there said, "Well, we do have this trainee program." So I became a kind of copy boy.
INTERVIEWER
You eventually ended up in San Francisco. With the publication in 1967 of Hell's Angels, your life must have taken an upward spin.
THOMPSON
All of a sudden I had a book out. At the time I was twenty-nine years old and I couldn't even get a job driving a cab in San Francisco, much less writing. Sure, I had written important articles for The Nation and The Observer, but only a few good journalists really knew my byline. The book enabled me to buy a brand new BSA 650 Lightning, the fastest motorcycle ever tested by Hot Rod magazine. It validated everything I had been working toward. If Hell's Angels hadn't happened I never would have been able to write Fear and Loathing in Las Vegas or anything else. To be able to earn a living as a freelance writer in this country is damned hard; there are very few people who can do that. Hell's Angels all of a sudden proved to me that, Holy Jesus, maybe I can do this. I knew I was a good journalist. I knew I was a good writer, but I felt like I got through a door just as it was closing.
INTERVIEWER
With the swell of creative energy flowing throughout the San Francisco scene at the time, did you interact with or were you influenced by any other writers?
THOMPSON
Ken Kesey for one. His novels One Flew Over the Cuckoo's Nest and Sometimes a Great Notion had quite an impact on me. I looked up to him hugely. One day I went down to the television station to do a roundtable show with other writers, like Kay Boyle, and Kesey was there. Afterwards we went across the street to a local tavern and had several beers together. I told him about the Angels, who I planned to meet later that day, and I said, "Well, why don't you come along?" He said, "Whoa, I'd like to meet these guys." Then I got second thoughts, because it's never a good idea to take strangers along to meet the Angels. But I figured that this was Ken Kesey, so I'd try. By the end of the night Kesey had invited them all down to La Honda, his woodsy retreat outside of San Francisco. It was a time of extreme turbulence—riots in Berkeley. He was always under assault by the police—day in and day out, so La Honda was like a war zone. But he had a lot of the literary, intellectual crowd down there, Stanford people also, visiting editors, and Hell's Angels. Kesey's place was a real cultural vortex.
In two recent essays, Vivian Gornick's eminent critical voice has assumed a new inflection: that of feminist oracle, alternately pleased and appalled by the landscape she surveys. As part of each essay's reckoning with the legacy of second-wave feminism, Gornick considers a selection of new books, including Rebecca Solnit's "Men Explain Things to Me" and Kate Bolick's "Spinster," the latter a blend of argument, literary history, and memoir in support of the unmarried woman who wishes to make, per the subtitle, "A Life of One's Own."
That subtitle would seem to align the book with Gornick's work, organized as it is by a literary persona for whom singularity is a natural state of being and being single a battle in which victory and defeat are inexorably bound. First-person conflict is Gornick's perennial subject, connected across books foremost by their narrator's longing for a unifying, comprehensive scheme. Once, feminism's second wave seemed to answer this lack, marshalling with righteous purpose the chaos of being Vivian Gornick, child of the Bronx circa 1935, born of one unquiet era and pitched headlong into the next.
In prefacing her discussion of "Spinster," though, Gornick laments as reckless some of the movement's more extreme rhetoric:
Marriage was rape, we cried, motherhood slavery. No equality in love? We'll do without!... How easy it was for us to declare ourselves "liberated," how chastening to experience the force of contradictory feeling that undermined these defiant simplicities.… Nearly every one of us became a walking embodiment of the gap between theory and practice: the place in which we were to find ourselves time and again.
That same passage is repeated, with slight modification, toward the end of "The Odd Woman and the City," Gornick's angular, roving new book. Placed in the context of this new work, the same words somehow shed the burden of high reckoning, and pass into a subtler, querying, rhythmic flow. The fit is better; the voice feels just that crucial bit more true. At stake for the Odd Woman of the title, after all, is something beyond the legacy of radical feminism—something whose absence in Bolick's book caused Gornick the greatest offense: "Of the joy and terror of actually trying to begin and end with oneself," she complains of "Spinster," "there is nothing."
For a woman, the struggle to begin and end with oneself can hardly proceed outside the context of the feminist project. In "Fierce Attachments," her 1987 memoir, and now with "The Odd Woman and the City," framed as a kind of sequel to that book, Gornick gives voice to the conundrum awaiting newcomers to the wilds of self-discovery: there is no feminist who is a stranger to herself.
In both "Fierce Attachments" and "The Odd Woman and the City," those wilds assume a specific geography—that of New York City. In the latter book, Gornick wanders the streets of Manhattan, a walker in search of moments within which she might meet herself, seeking exchange, to speak and be spoken to. In one passage, Gornick describes being overcome, during an aimless visit to the Metropolitan Museum of Art, by a carving of a young Egyptian goddess:
Although I am alone with the goddess, have no one to whom I could utter a sound, I nonetheless feel speechless: cannot find the words inside me to describe the engulfing emotion this little bit of wood and gold has aroused. An awful gloom falls on me. Once again, as it has with irregular regularity throughout my waking life, that sickening sense of language buried deep within comes coursing through arms, legs, chest, throat. If only I could make it reach the brain, the conversation with myself might perhaps begin.
Like that of W. G. Sebald, Gornick's persona habitually discovers in specific works of art the drama at the center of her life; thus the interplay of life and art both form and inform the narrative at hand. Gornick's admiration of Sebald, documented in "The Situation and the Story," her meditation on the art of personal narrative, suggests a project and a sensibility in particular sympathy with her own. Discussing "The Rings of Saturn" (to call it a novel, she argues, is "a measure of the bankruptcy of fiction"), Gornick describes a narrator "for whom the solitary wander has long been the only reality." In Sebald, the depressed narrator's associative wandering—from one museum or historic spot to the next—opens an unlikely portal to consciousness, through which the reader comes "to feel the immensity of human existence: not its smallness or meanness or pointlessness. In the act of responding so prodigiously to what he sees, recalls, and broods upon, this calm, solitary, pilgrim-like narrator performs a peculiar act of compassion toward world-and-self, one that extends a lifeline of hope."
In "The Odd Woman and the City," Gornick's existential dilemma is indistinguishable from her artistic one: the desire to communicate, free of obstruction; to become real to others, and see others as real; to exist in the most basic way, a creature "filling my skin, occupying the present." This Gornick marches for a cause with no barricades, under no banners. "I was never less alone than alone in the crowded street," she writes. "Here, I found, I could imagine myself."
Much of "The Odd Woman and the City" details Gornick's imaginings of herself and others, describing with awed lyricism an ideal of both deep friendship and the fleeting encounter. If, in big cities especially, even bonded friendships can disintegrate overnight, Gornick suggests the plunging impact one passing stranger, in the right mood, might have on another. A simple, glad exchange with a pizza deliveryman, for example, prompts the following ecstasy: "Energy—coarse and rich—began to swell inside the cavity of my chest. Time quickened, the air glowed, the colors of the day grew sharp; my mouth felt fresh. A surprising tenderness pressed against my heart with such strength, it seemed very nearly like joy; and with unexpected sharpness I became alert not to the meaning, but the astonishment of human existence."
"It was his voice that had done it," Gornick writes of another encounter's revelation. "That voice!" Though she writes with feeling about her long, fruitful but difficult friendship with a gay man she calls Leonard, Gornick swoons only for the city. "Most people are in New York because they need evidence—in large quantities—of human expressiveness; and they need it not now and then, but every day," Gornick writes. "It's the voices I can't do without."
I assigned an excerpt of "The Odd Woman and the City" for an essay seminar this spring, and as we discussed it several students remarked on the strange, really the inexplicable youth of Gornick's voice. What it came down to, I think, is that she sounds just as alive—which is to say just as thoroughly messed up, scared, angry, and secretly tender—as they are. At sixty years old, Gornick writes, she walked the streets in what sounds like a younger person's daze, playing movies of herself as she went, suppressing "some unnameable anxiety" with daydreams of the future: "The tomorrow in which I would write a book of enduring value, meet the companion of my life, become the woman of character I had yet to become."
Gornick's voice, as she has observed of her previous writing, does not just tell the story, it is the story. The struggle to attain it forms an apt subtext; its coherence, a fine weave of observation, feeling, and insight, triumphs over the narrative disarray from which Gornick, possessed of "the gene for anarchy," claims to suffer. Here, as in her best work, voice is life, story, struggle—and none can do without the other.
"The Odd Woman and the City" cuts around in time, alternating between past and present tense with no apparent sense of chronology, its mix of literal and literary wandering extending even to Gornick's previous books—snippets from "Fierce Attachments," "The Situation and the Story," and at least one essay collected in "Approaching Eye Level" appear here, sometimes verbatim, sometimes modulated to new ends. Despite or perhaps owing to its idiosyncrasies, its attenuations, light touch, and fragmented form, the book has a summary effect. It left me, in fact, with an image from "Fierce Attachments," in which Gornick describes with rapture another voice, another story, another fight—that of the writer Josephine Herbst, American novelist, Old Left radical, and anarchist in her own genetic right, "a stubborn willful raging woman grabbing at politics and love and writing, in there punching until the last minute."